Welcome to
Göteborgs Nation
Göteborg's Nation is a student nation founded in Uppsala in 1667. Back then, it was a place for people from the city of Gothenburg to gather when they found themselves far from home and felt homesick for the salty sea of the west coast and the lovely dialect associated with the city. Today, however, students from all over the world are welcome to the nation and the community. Göteborgs Nation is one of the smallest in Uppsala with around 500 members, which gives you as a new student the opportunity to quickly become part of the gang, explore our pub, parties, cultural activities and nation life, or simply come here to have fun!
The nation provides several different services for our members and students in Uppsala. Each semester we distribute a large sum of money through various scholarships that members can apply to – most of them have different criteria to determine who are the most deserving, but it is always worth it to apply!
We also provide accommodations – vacant rooms are advertised through Facebook and the website.
Come visit us at the office to learn more or send an email to 1q@goteborgsnation.se
The nation also houses a library to study in. There are both old and new books mostly in Swedish – but sometimes it may be possible for you to save money by finding one of your textbooks there. The library focuses primarily on law, but there are a lot of other subjects that might interest you.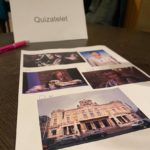 Quiz
Tuesdays 20-22
We arrange pub quizzes on Tuesday nights in the pub. Grab a beverage and a burger from the pub and join!
Karaoke
Thursdays 21-23
Thursday is karaoke night. Sing your heart out with your friends down in the pub!
Sunday brunch
Sundays 12-14
Exhausted and tired from yesterday's gasque, or just want to hang out with some friends? Come and enjoy a delicious and filling brunch at the nation!
PUB
After studying all day we go down to the pub and enjoy good food, drinks and good company. Glenn's as we know it now is a place to catch up with friends, meet new people and spread good vibes.
CLUB
Clubs and afterparties is what we do best! Our afterparties are well-visited with tons of surprises and fun. Check out our Facebook for information on upcoming clubs and afterparties.
---
GASQUES
A 'gasque' is an old word for a certain kind of dinner party, where people put on fancy clothes, eat a three-course dinner, drink schnapps – or some alcohol-free options – listen to funny speeches and much more. This 'framework' makes all gasques similar to each other – but at the same time they can be quite different.
A gasque is the most common type of a party at the nations in Uppsala – they have existed as long as the nations have; over 300 years. And it is not a coincidence that they still exist now. All nations have gasques – and Göteborgs has the best ones. A gasque is something every student in Uppsala has to experience at least once!
You can find information about the next gasque on our facebook page, or just email the Curators (kuratelet) and ask. There are always alcohol-free and vegetarian options – everyone is welcome!
POSITIONS
Do you want to be more involved at the nation? Become an ämbetsman! The Ämbetsmän are the functionaries who make the nation go round, organizing and executing everything from the pub to gasques, from quizes to karaoke, from brunch to choir. These posts are chosen at the nation's Landskap, which is held four times a year. Contact your First Curator on 1q@goteborgsnation.se to learn more about how to apply and which positions are available.